Healthy Diet for Kids - to avoid obesity and for weight loss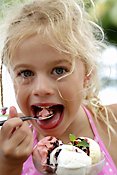 During summer without the physical activity that schools provide, children are in danger of not burning the extra energy from high calorie foods. It is important for parents to give their children healthy snacks during summer.
While the quality, and quantity of snacks matter, there's no need to completely ban children's less-healthy summer favorites like ice cream, says Melinda Sothern, PhD, professor of health promotion at Louisiana State University and co-author of - Trim Kids: The Proven 12-Week Plan That Has Helped Thousands of Children Achieve a Healthier Weight
"The trick is limiting high-calorie snacks to no more than twice a week, and to not keep them in the house" to limit access and reduce temptation, Southern says. Healthy Diet for Kids - to avoid obesity and for weight loss
9 Kids' Snacks to Avoid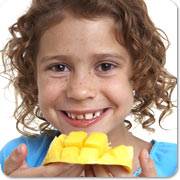 It's easy for snacks to provide your child with more calories, fat, sugar, and sodium than he or she needs. And certain summer favorites are worse than others.
Here are nine of the worst offenders you'll find at state fairs, carnivals, on the boardwalk, and at roadside pit stops. As you read this list, bear in mind that many moderately active kids ages 4-12 need about 1,400-2,000 calories a day; should limit daily fat intake to 46-66 grams; and need no more than 2,300 milligrams (mg) of sodium a day.
Baskin Robbins' Reese's Peanut Butter Cup Sundae (one size): 1,250 calories, 81 grams fat, 91 grams sugar.
Cold Stone Creamery Dark Chocolate cone (large): 800 calories, 47 grams fat, 68 grams sugar.
Fried Macaroni and cheese (one serving): 572 calories, 33 grams fat, 1,840 milligrams sodium. (These numbers are for a homemade recipe, but fair versions would likely be comparable.)
Cherry Slurpee (16 ounces): 240 calories, 64 grams sugar.
Corn dog and fries: 770 calories, 1,600 milligrams sodium. (That's 560 calories and 1,070 mg sodium for a 7-ounce order of fries, plus 210 calories and 530 mg sodium for a corn dog.)
Fried dough (3 ounces): 360 calories, 20 grams fat.
Dunkin Donuts Blueberry Muffin: 510 calories, 16 grams fat, 490 milligrams sodium, 51 grams sugar.
Nestle Chocolate Chip Ice Cream Sandwich: 500 calories, 24 grams fat, 40 grams sugar.
Lemonade (16 ounces): 198 calories, 51 grams sugar.

Healthy Snacks for Summer
Carrot sticks or ice cream sandwich? There's probably no contest from a kid's perspective. But there are ways to keep kids from constantly clamoring for less-than-healthy snacks.
"Eating at regular intervals discourages kids from grazing, which is that near-continuous nibbling or drinking, or both, throughout the day," says Sothern.
That's not to say that healthy snacks don't have their place in a child's diet. Whether you're on the road, spending the day at the beach, or hanging out in the backyard, Sothern recommends keeping healthy, low-calorie snacks on hand and doling them out in reasonable portions.
And just what constitutes a healthy snack for kids? Snacks should offer vitamins, minerals, and fiber, and should be enough to take the edge off a child's hunger, but not squelch it.

Remember that liquid calories count, too. Keep water handy to avoid buying soda, lemonade, or fruit drinks. Or, concoct a refreshing, low-sugar spritzer with equal parts 100% fruit juice and club soda.
Here are nine simple summer snacks that offer good nutrition for the calories:
Any frozen treat under 150 calories per serving, such as fudge bars, fruit bars, "light" and "slow-churned" ice creams and sherbet (you can also freeze yogurt sold in tubes).
Homemade frozen fruit pops made with 100% fruit juice and frozen berries.
Fruit and yogurt parfaits: Layer low-fat vanilla yogurt with fresh fruit.
Frozen fruit, such as chunks of watermelon, cantaloupe, and honeydew with low-fat fruit yogurt for dipping.
Homemade smoothie made with milk, fresh fruit, and crushed ice.
Homemade trail mix: Mix single-serve low-fat microwave popcorn with shelled pistachios and dried fruit, such as raisins or cranberries.
Mini whole-wheat bagels spread with peanut, almond, cashew, or sunflower seed butter.
Sliced red and green bell peppers, baby carrots, and hummus for dipping.
Whole fresh strawberries dipped in melted dark chocolate.