Clinical trials have shown that exercise in adults with overweight or obesity can reduce bodyweight. In a clinical test carried out 43 studies included 3476 participants. When compared with no treatment, exercise resulted in small weight losses across studies. Exercise combined with diet resulted in a greater weight reduction than diet alone. Increasing exercise intensity increased the magnitude of weight loss. Before you embark on any kind of exercise ensure that you are fit enough. You should be physically fit. Type of exercises that you can do depend upon your physical fitness. First check your physical fitness level and then go ahead with the exercises.
Do You Know How to Walk? Can you chew gum at the same time? All kidding aside. For reducing obesity and weight, walk is the best and cheapest exercise. An exercise you can do anywhere you are and at anytime convenient to you. But, have you ever thought about how your are walking - are you walking correctly? If you don't know, you need help and you need it before you do serious and permanent damage to your feet! You may be thinking that you don't need any help learning how to walk but there's much more to serious walking than just putting one foot in front of the other. There is a definite advantage to having a clearcut guide of what kinds of equipment to wear or how to use your arms when you are walking. You must get the most out of your walking routine.
Weight loss therapy has a significant effect on losing weight, provided it is done regularly. The primary goal of this therapy is to move sedentary people into an active category (even if it is moderate levels of intensity) and to move moderate level individuals into more vigorous levels. For many of us cost is a major inhibiting factor. We all love to be fit and healthy. I would like to share a simple way of exercising with dumbbells. You only need dumbbells and a bench. Exercises for your complete body can be done with these two equipments. I found it very useful. Click here to know more about this Ebook
Physical activity is a key part of maintaining weight loss. A decrease in the amount of daily activity related to work, transportation and personal chores is believed to contribute to the high percentage of overweight and obesity today. Abdominal fat, and in some cases waist circumference can be modestly reduced through physical activity.
Exercise for Obesity and Weight Control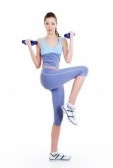 Exercise has an important role in all effective weight control plans. If you compare diet with exercise, you will find that exercise wins all the time. University of Chicago researchers studied 23 obese women who agreed to follow one of three programs: a low-fat diet, a low-carbohydrate diet, or daily aerobic exercise with no diet restrictions. After 12 weeks, the exercisers lost significantly more weight and more fat than those in the other groups.
For some of us time is a rare commodity. This is one common reason why we avoid exercise. For those with no time to do exercises I would suggest this DVD. If you really want to get a good workout and to jumpstart your weight loss get this DVD you will not be disappointed. It's great for those who are short on time and want to try something new; every workout is just under 30 mins! Jillian Michaels - 30 Day Shred
Exercise also boosts your BMR - Basal metabolic rate (BMR) is the amount of energy expended while at rest in a neutrally temperate environment. It helps you burn calories even when you're not exercising. Exercise elevates mood, reduces stress, and improves self-esteem, all of which also helps in weight loss.

To make your exercises more fun, try Fanda's exercise for woman. You can find here many exercises to lose weight and to sculpt your body.
Regular exercise also helps keep you adhere to a diet plan. For example, in another clinical trial conducted at University of Chicago, researchers studied 30 women enrolled in a 12-week weight-loss program. All were placed on a restricted-calorie diet. In addition, some took a 45-minute aerobics class three times a week. They found that those who exercise were significantly more likely to stay on the diet.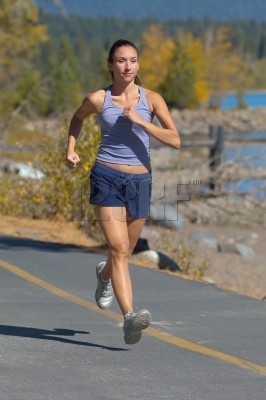 How much exercise do you need to lose weight and keep it down? The experts generally recommend a total of 30 to 60 minutes of physical activity every day.You can do some simple exercises. For example, go for a walk. Walking helps control weight. It is one of the best ways to start exercising. It is also lot of fun. You can walk for as little as 1 mile a day (15 to 20 minutes of effort). This should translate to losing about 10 pounds of fat in a year. It is something all of us can do without any significant sacrifice. It is not necessary that you have to dedicate 30 minutes to 90 minutes for exercise at one time. It is perfectly Ok to break this into 10 or 15 minute increments. That way you can do some workout during lunch time and in the evening too.
Some people have a hard time sitting still. They have to be doing something. They're always shifting and squirming. This is also great for weight loss. Scientists at Mayo Clinic has found that actions like climbing stairs, carrying objects, even fidgeting seem to help control weight gain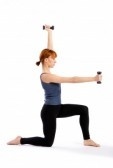 Many of us who are obese also face other health problems such as diabetes, blood pressure and high cholesterol levels. Several studies have shown that you only have to lose a few pounds in order to see immediate, positive results in your cholesterol, blood pressure and insulin levels. At the University of California, Los Angeles, researchers put 11 obese men on a very low-fat, high-fiber diet, with daily 45-to-60- minute walks on treadmills. After three weeks, the men only lost a few pounds, but their cholesterol levels plummeted 19 percent and their insulin levels dropped by nearly 50 percent. Several men who entered the study with high blood pressure left with normal readings.
A common approach is behavioral therapy, often in groups directed by a dietitian or psychologist. The pillars of this therapy are self-monitoring and stimulus control. Therapy may help dieters repel self-defeating thoughts and reject unrealistic goals.
Though genetics do play a role in obesity, a new study shows regular physical activity can blunt the impact of a genetic predisposition to being overweight.
Your visit to this functional training website will be rewarded because you will have the opportunity to explore some of the major functional training methodologies such as strength, fitness, sports conditioning, speed, endurance, physical wellness, and optimal sports nutrition.
Fat Loss In 3 Months I decided to follow my passion for helping people through my MiamiBeach personal trainer and massage therapy sessions. My goal was, and still is, to teach my clients a new way of life through diet and exercise and increasing their levels of relaxation through massage.
Related Articles
Triathlon for Reducing obesity and weight loss
Thigh toning exercises - fitness